March 5, 2021 |
Mandy Bauer
2021 Spring Caliza Wine Club Release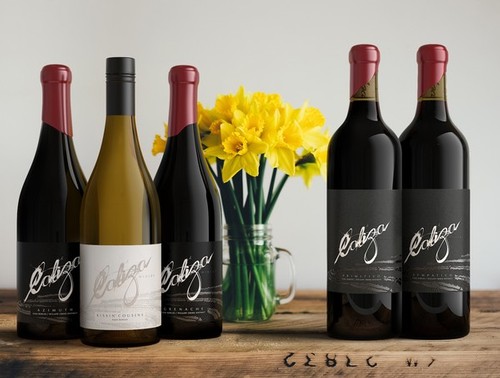 ---
2020 KISSIN' COUSINS
48% Viognier, 30% Grenache Blanc, 22% Roussanne
Star bright and golden-hued. Vivid aromas of fresh jasmine and early spring flowers lead to notes of sweet peach, ripe pears, and stones wet from a damp sea breeze. With voluptuous mouthfeel and great structure, the wine has lingering flavors of green apple, pineapple, dried apricots, and freshly squeezed lime. Impressions of honeyed melon coat your palate as a mouthwatering acidity leaves you longing for more! Drink now for prime freshness!
---
2018 GRENACHE
100% Grenache
Wine critic Jeb Dunnuck says, "Kirsch, ground pepper, and herbes de Provence-like notes all emerge from the 2018 Grenache, which is medium to full-bodied and offers plenty of character, ripe tannins, and a great finish. Drink this mouthfilling, powerful, yet balanced Grenache any time over the coming 5-7 years." 93 Points
Like a shy seductress who will flee when pursued… yet enlivens when caught, this dark and alluring blend of a few different lots of Grenache is truly captivating! Aromas of raspberries, ripe cherries, pomegranate, white pepper, dried herbs, and sweet tobacco burst from the glass. Your palate is hit with soft velvety textures, layers of complexity, and subtle undertones of wet gravel and crushed rock. Ripe plums, herbs and spice leave you with a long, lingering, juicy finish that begs you to take another sip! Enjoy this racy, sultry wine in its youth for the ultimate pleasure, we promise it will not disappoint!
---
2018 AZIMUTH
50% Mourvedre, 30% Grenache, 20% Syrah
Wine critic Jeb Dunnuck says, "The 2018 Azimuth showed brilliantly, with rocking notes of blueberries, ripe strawberries, dried flowers, and spice all emerging from the glass. Deep purple-colored and full-bodied on the palate, it has ripe tannins, a terrific sense of purity, and a great finish. Based on 50% Mourvèdre, 30% Grenache, and 20% Syrah, it's going to keep for a solid decade." 95 points
On one hand savage, untamed, and wild. On the other calculated, deliberate, and concise. Feral aromas of black truffle and smoked chipotle powder couple with intense fruit character of dark plum, black cherry, and blueberry cobbler. Deep black fruits marry notes of leather, underbrush, and spice bringing this well-integrated blend to life. With sweet vanilla overtones and silky soft tannins, this wine is full of complexities and tantalizing textures that fill your mouth with all its goodness.
---
2018 SYMPATICO
88% Tempranillo, 12% Grenache
Wine critic Jeb Dunnuck says, "The Tempranillo-dominated cuvée, the 2018 Sympatico includes 12% Grenache and spent 18 months in 36% new French oak. Lots of red and black fruits, white and black pepper, gamey meat, and cedary spice notes emerge from the glass. It's a firmer, medium to full-bodied, structured wine that needs 2-3 years of bottle age and will evolve nicely through 2030." 93+ points
Deep purple center and a ruby-hued rim. With nearly 90% Tempranillo, this may be the best Sympatico vintage to date! Explosions of fresh wood shavings, humidor, bouquet garni, and a plethora of red and black fruits. Flavors of cherry cola, fig jam, espresso, and peppered boar jerky are complimented by firm, polished tannins, and luscious notes of dark cocoa powder. This is a wine that will not only touch your palate… but grip your soul!
---
2018 PRIMITIVO
85% Primitivo, 15% Petite Sirah
Wine critic Jeb Dunnuck says, "Based on 85% Primitivo (Zinfandel) and 15% Petite Sirah, the 2018 Primitivo sports a dense purple color as well as notes of mulled plums, peppery incense, candied orange, and flowers. Full-bodied and powerful on the palate, it has terrific balance, loads of fruit and opulence, and a great finish. It's not lightweight and is close to 16% alcohol, but it's a rocking Zinfandel with loads to love. It should keep for 7-8 years at a minimum." 94 Points
The Mike Tyson of the vintage, this bad boy packs a punch! Deep, dark, inky purple color match aromas of blackberry jam, black plum, roasted nuts, and candied orange wheels. Dense and unctuous with flavors of Grandma's plum pies, juicy wild berries, leather, dried leaves, and loads of pepper. A long, luscious finish full of refined, sophisticated tannins and big fruit flavor will make the most avid Zin lover shiver with excitement!
---
We invite you to book an exclusive virtual tasting with Caliza to preview our newest releases. Click HERE to purchase your Virtual Tasting Double Pack Experience, and use discount code: CLUB at checkout for a special 50% discount! Thank you for being a wine club member and for all of your support!
Cheers,
The Caliza Team