June 15, 2023 | Ciara Girard
Summertime Sippin' and Perfect Pairings!
Get creative in the kitchen this summer through food and wine pairings with our second label: End of the Day. Whether you're cooking for yourself or for a gathering, our ready-to-drink wines are sure to heighten any at-home culinary experience. These favorite summer recipes and suggested wine pairings will please any palate!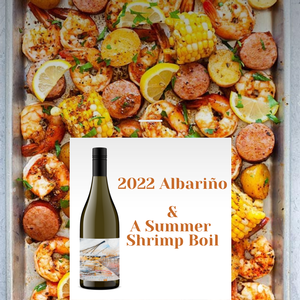 Summer Shrimp Boil
Ingredients:
Water, for boiling
4 tablespoons Old Bay Seasoning
8 oz. baby potatoes, cut into halves
2 ears corn on the cob, cut into 2-inch pieces
12 oz. smoked sausage, cut into pieces (Hillshire Smoke Sausage Rope)
1 lb. shrimp, shelled, deveined, tail-in
1 tablespoon chopped parsley, for garnishing
Cajun Butter:
6 tablespoons unsalted butter, melted
1 1/2 tablespoons Cajun seasoning (McCormick)
Instructions:
Fill a tall stockpot halfway with water. On high heat, bring the water to a rolling boil.
Add the Old Bay Seasoning, follow by baby potatoes and corn. Cover the pot and boil for 8-10 minutes, or until the potatoes become tender.
In the meantime, make the Cajun Butter by combining the melted butter with Cajun seasoning together. Stir to mix well and set aside.
Add the smoked sausage and shrimp, boil for 1 minute, or until the shrimp turn pink. Remove the pot from heat and drain all the ingredients using a colander. You may need to do it in two batches if your colander is not big enough.
Heat up a skillet on high heat. Add the Cajun Butter and all the shrimp boil ingredients together. Stir to combine well. Transfer the shrimp boil to a sheet pan or serving platter, garnish with chopped parsley and serve immediately with a chilled glass of Albariño.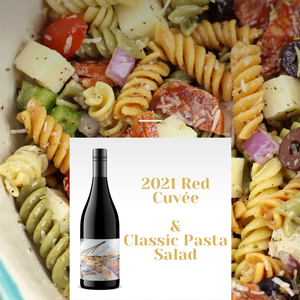 Classic Pasta Salad
Ingredients:
24 ounces tri-color rotini pasta, uncooked
1 pint cherry tomatoes, halved
12 ounces sliced pepperoni
1 red onion, diced
1 green bell pepper, diced
16 ounces mozzarella cheese, cubed
1 cup grated parmesan cheese
8 ounces olives, sliced
Vinaigrette dressing:
1 ½ cups olive oil
½ cup red wine vinegar
2 tablespoons Italian seasoning
2 teaspoons garlic powder
1 ½ teaspoons salt
1 teaspoon pepper
½ teaspoon red pepper flakes
Instructions:
In salted boiling water, cook pasta according to package directions. Drain and rinse with cold water until pasta is room temperature. Place pasta in a large bowl.
Add cherry tomatoes, pepperoni, onion, bell pepper, mozzarella, parmesan, and olives to the bowl. Set aside.
In a separate bowl, add olive oil, vinegar, italian seasoning, garlic powder, salt, pepper, and red pepper flakes. Whisk to combine.
Pour vinaigrette over pasta salad, then toss to coat. Refrigerate for 1 hour before serving.
If your pasta salad has been chilling for several hours/overnight and very cold, allow it to warm up slightly at room temperature for 20-30 minutes, then give it a toss to redistribute the dressing just before serving with a glass of Cuvée.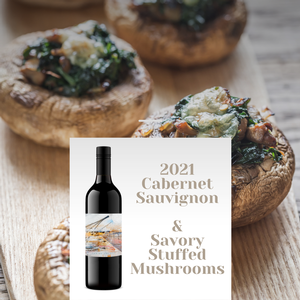 Savory Stuffed Mushrooms
Ingredients:
18 mushrooms whole mushroom caps, fresh
1 tablespoon olive oil for sauteing
2 cloves garlic pressed using garlic press
8 oz cream cheese softened
¼ cup Parmesan cheese grated
¼ teaspoon white pepper
¼ teaspoon cayenne pepper
¼ teaspoon onion powder
Instructions:
Heat oven to 350.
To prepare the filling, start by heating 1 tablespoon oil over medium and adding garlic and about ¼ of the stems chopped up. Stir and heat until most of the moisture is gone and then add the rest of the ingredients, stirring until mixed smooth.
Arrange mushroom caps on a baking sheet. Fill each mushroom cap with a nice heaping spoonful of the filling. (Use a piping for the easiest method!) When they are all filled, place in preheated oven for 20 minutes and serve with a glass of Cab.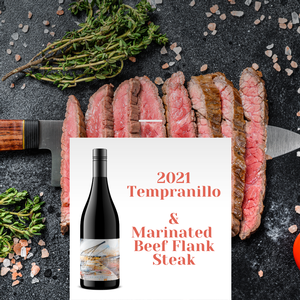 Marinated Beef Flank Steak
Ingredients:
1 1/2 -2 pounds flank steak
1/2 cup olive oil
1/3 cup reduced-sodium soy sauce
1/4 cup balsamic vinegar
2 tablespoons lemon juice
2 tablespoons brown sugar
1 1/2 tablespoons Worcestershire sauce
1 tablespoon Dijon mustard
1 TBS EACH onion powder, garlic powder
1 tsp EACH paprika, pepper, red pepper flakes, dried dill weed
1/2 tsp EACH dried oregano, dried rosemary, ground coriander
Instructions:
Whisk marinade ingredients together in a freezer-size Ziploc bag. Reserve 2 tablespoons to use later. Add steak, press out excess air and seal. Massage marinade into the steak with your hands through the outside of the bag.
Marinate in the refrigerator at least 2 hours or up to 12 hours.
Preheat outdoor grill (or indoor grill pan) to medium-high heat, (450 degrees F when lid is closed).
Grill steak for 5-6 minutes per side, or until an internal thermometer reads 130-135 degrees F for medium rare or around 140 degrees for medium. Grill time will vary depending on thickness of your steak and desired level of doneness.
Remove the steak to a cutting board and let rest for 10 minutes before slicing. Slice steak into thin strips against the grain (perpendicular to the long strands) or ½-inch cubes. Drizzle with the 2 tablespoons reserved marinade.