April 24, 2020 |
Tyler Hill
Getting stir crazy during this pandemic? Looking for a precipitous evening filled with thrills and chills as well as good wine and food? In an effort to engage our loyal customers and continue to sell wine, we are offering an exciting dine-in experience by pairing a movie, a Caliza wine and a dish crafted by our very own Winemaking Team Associate, Tyler. This week we are Pairing the smoky, meaty, savory 2016 Caliza Syrah with some grilled lamb lollipops, leeks, and a fava puree. The movie to go with it is... you guessed it! Silence of the Lambs.
Make sure to post pictures to Instagram and tag #calizawinery.
---
The Wine: 2016 Syrah
Glass-coating layers of brilliant magenta and sexy violet segue to an explosion of dried blueberries, freshly baked berry cobbler, grilled meats and bouquet of dried herbs jump from the glass. This is another rich and powerful Caliza Syrah for sure with firm yet approachable tannins and long lingering presence on the palate. In Carl's optinion, the 2016 is a "homerun" that can be enjoyed now or cellared for over a decade.
Purchase 3+ bottles with $10 flat rate shipping, using promo code: CLARICE at checkout
Purchase 6+ bottles with $1 flat rate shipping, using promo code: HANNIBAL at checkout

*Doce members receive complimentary shipping on any order 6+ bottles
*promo available on new orders of any 750mL bottle and valid until April 30th, 2020
---
The Movie: Silence Of The Lambs
Jodie Foster stars as Clarice Starling, a top student at the FBI's training academy. Jack Crawford (Scott Glenn) wants Clarice to interview Dr. Hannibal Lecter (Anthony Hopkins), a brilliant psychiatrist who is also a violent psychopath, serving life behind bars for various acts of murder and cannibalism. Crawford believes that Lecter may have insight into a case and that Starling, as an attractive young woman, may be just the bait to draw him out.
*movie not suitable for children, make this an adult only movie night!
Rent this movie on Amazon Prime here: The Silence Of The Lambs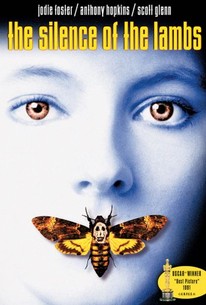 ---
The Dinner: Grilled Rack of Lamb with Spring Garlic and Fava Bean Puree
Recipe feeds 2-3 people
Ingredients:
1 full Rack of Lamb
Olive Oil
4 Medium-Sized leeks
1 cup Fava Beans Shelled
1 Lemon
1 tablespoon Fresh Chopped Chives
Two Sprigs of Fresh Thyme
One Knob Unsalted Butter
Salt
Pepper
Directions:
1) Heat grill to 400
2) Separate each lamb lollipop with a knife. Lightly brush both sides with olive oil and add salt, pepper, and thyme. Set aside.
3) Cut green tops off of leeks, rinse and brush with olive oil. Wrap in aluminum foil to make a "pocket". Place in a covered grill for 25 minutes on the upper rack.
4) Meanwhile, bring salted water to a boil. Once boiling, quickly blanch favas for 1-2 minutes. Drain and puree. Add a little bit of water until the consistency is smooth but not runny. Add a squeeze of lemon and salt to taste.
5) As leeks near completion, check to make sure it is tender and can be punctured easily with a fork. If not, cover the grill and continue cooking until soft. Once done, melt a knob of butter over the leeks, add a dash of salt and pepper.
6) Place lamb on the grill uncovered. Cook on each side for about two minutes or until desired doneness is achieved.
7) Using a spoon, spread fava puree on the bottom of the plate in an artistic fashion. Place down 1-2 leeks per plate and 3-4 lamb lollipops on top. Add a squeeze of lemon and garnish with fresh chives.
Note: This is a very seasonally inspired dish. If possible, visit your local farmers market for f f f f favas and leeks.
Enjoy,
The Caliza Team