November 13, 2018 |
Kellie Balentine
Your Holiday Gift Guide
Courtesy of Caliza Winery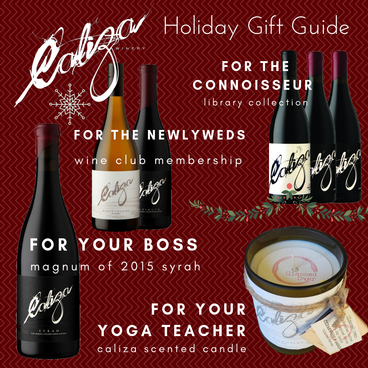 Looking for the perfect gift for the wine lover in your life? Look no further than Caliza and our Holiday Gift Guide! Compiled by our team of wine enthusiasts, this list will help take the guesswork out of gifting.
With that— pour a big glass of Caliza wine, turn on some festive tunes, and prepare to check off your list (click the links below to purchase)…
Your Boss- A Magnum of 2015 Syrah

Show the (wo)man keeping you employed some love this holiday season with a magnum of our SOLD OUT 2015 Syrah. Not only do magnums pack the "wow factor" that makes for a great gift, they are the best format for cellaring your wine and make the perfect addition to any holiday table.
Also available in magnum format are the 2015 Azimuth, 2014 Companion and 2014 Cohort.
The Newlyweds- A Wine Club Membership
What better way to congratulate the start of a new chapter than a wine club membership? The happy couple can toast the first year milestones with a glass of Caliza wine, delivered right to their door (a minimum of) two times per year. A thoughtful gift that keeps on giving!
Also works for The New Homeowners, The Recent Graduate or The New Business Owner.
The Connoisseur- A Library Collection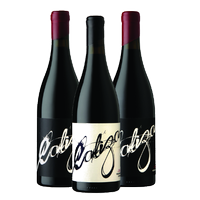 Always the hardest to buy for, The Connoisseur is savvy, sophisticated and not impressed by just any wine. For this reason, we have pulled a few special bottles out of our cellar to create the ultimate trio- (1) 2012 Reserve Syrah, (1) 2012 Azimuth and (1) 2011 Cohort. Library and reserve bottles, ready to drink now.
Order this three pack in multiples to build a case and really up the ante.
Your Yoga Instructor- A Caliza Candle
Who doesn't love candles?! Especially when they are soy and smell like Spiced Cranberry, Cedarwood & Amber, French Lavender or Lemongrass Kiwi Cassis. These are bestsellers in our tasting room and they are sure to bring joy to any recipient. Plus, they come in Caliza wine bottles so they look fab on display!
Also works for The Dog Sitter, Your Sister or Your Best Friend.
Treat Yourself!- 2015 Sympatico
Because really, you deserve it! Treat yourself to the brand new, uber limited release of our 2015 Sympatico, comprised of 100% Tempranillo (for the first time ever). This wine is rich, smooth and sure to help you make it through the holidays with most of your sanity intact. Only 40 cases produced so this wine will not be included in a wine club release. Get it before it is gone!
Save on Shipping
Prefer to customize your own gift package?
Use code: HOLIDAY6 for $20 Flat Rate Shipping on 6+ bottles
Use Code: HOLIDAY12 for Complimentary Shipping on 12+ bottles
Offers valid through 12/9/18.
Gift Notes
Gift Notes can be included in all purchases, just specify in the "Gift Note" field at checkout. Please note that gift orders must be separated by shipping address.
Corporate Gifts
We would love to help you with your corporate gift order! Please contact kellie@calizawinery.com for more information.