This is a highly curated, engaging, and interactive opportunity to create your own GSM wine blend with samples of Caliza's premium estate Grenache, Syrah, & Mourvèdre. Dive into the art and craft of wine blending and experience the skill of professional blending in a fun and collaborative environment.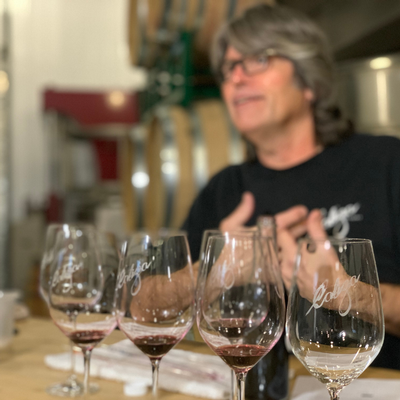 Each Blending Experience Package Includes:
Caliza's founder and winemaker leading you through the art and craft of wine blending
3 - 375mL bottles of Caliza estate wines for blending (1-Grenache, 1-Syrah, 1-Mourvèdre)
1 - 375mL empty bottle for filling with your final blend
2 - pipettes
1 - 250ml beaker
Personalized blending instructions
750mL bottle of Caliza's Flagship Azimuth (GSM) blend to be used as a benchmark to enjoy during your blending experience, or take home for another time.
Each kit is appropriate for 2 people to share.
Want to schedule your own Private Blending Experience? Gather a group of 5 or more couples and schedule a blending workshop with us either in-person or virtually*. Reach out to our team at info@calizawinery.com for more details and to start planning your own blending event.
*Shipping of kits for a virtual experience will incur additional charges.
Caliza Wine Club Members will receive a $25 discount per wine blending package.