2018 VINTAGE PASO: ZINFANDEL WEEKEND
Visit Caliza on Vintage Paso: Zinfandel Weekend to experience our special estate wines. We will be featuring our newly released 2014 Primitivo (an Italian clone of Zinfandel), along with many of our unique, top tier blends. We specialize in wines crafted from fruit grown on our sustainably farmed vineyard in the hills on the west side of Paso Robles. Our focus is on the production of world class wines crafted from red Rhône varieties such as Grenache, Syrah and Mourvèdre as well as white Rhône varieties such as Viognier, Roussanne and Grenache Blanc. Other varieties we grow and craft wines from are Tempranillo and Cabernet Sauvignon. Tasting fee is $15/pp (complimentary for club members).
Celebrating Zinfandel (or in our case Primitivo!):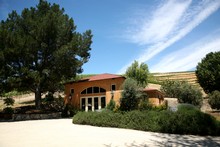 To help celebrate Vintage Paso: Zinfandel Weekend we are taking an in-depth look into 4 vintages of our Primitivo. Contact us to reserve your spot for our Spring Focused Tasting Experience as we compare the 2012, 2013, 2014, & 2015 vintages of this varietal. We will be holding appointments this weekend at: 10:30 am, 12:30 pm, & 2:30 pm for $25 per person ($20 per person for club members). This private tasting has generated rave reviews and it is something you won't want to miss!